After some really empty years, Colombian road cycling is finally coming back internationally. They are being signed as ProTeam riders or as Professional Continental in European teams.
Some are in Continental teams in the US and Asia and in 2012 there will be 4 Contintental teams out of Colombia (Movistar Continental, Une-EPM, Coldeportes Nacional, Governacion de Antioquia) .
Many of you saw the Colombian teams for the first time at the Tour of Utah & the US Pro Cycling Championship in 2011. Some of you saw them in Italian races throughout the year. I will catch up the rest

This is the best time EVER in Colombian cycling. I say better because even in the heyday of Lucho Herrera and Fabio Parra, Colombian representation in Cycling was through two amateur teams (that were almost all Colombian) invited for a few years to the Grand Tours until they fell apart (Cafe de Colombia & Manzana Postobon).
For 2012, there are 11 riders that will be riding in Europe including 7 under 25 years old. In top of that, there are at least 3 more that will most likely be transition there in the next few years. That's not even counting the Pro Continental teams and "Farm" continental teams (ColDeportes Nacional is planning one, Colombia es Pasion is the other).
Colombian cycling is being built (finally) as a long-term goal. Results have been amazing.
The GiroBio, aka Baby Giro, is a multi-stage race that showcases the up and coming riders. Colombians came in 1st in 2009, came in 1st and 2nd in 2010 and 2nd in 2011 (after most Colombians were not able to participate due to visa problems).
The Tour L'Avenir, or Tour of the Future, is the other race, affiliated with the Tour de France, that also showcases up and coming riders. Colombians won in 2010 and in 2011.
I give a quick summary of 11 riders here, as well listing 6 more to watch for and another Colombian cyclist that will be the main talk of London 2012.
*note: all pictures were found on the internet, Most from either www.cyclingnews.com or www.revistamundociclistico.com.   Great sites to visit daily
 The riders are: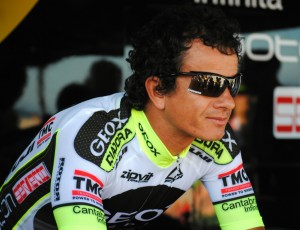 Full name: Mauricio Alberto Ardila Cano
Born: Yarumal, Antioquia
DOB: May 12, 1979 (32 years old)
Team: Geox-TMC
Professional since: 2002
His Palmares include the Tour of Britain overall, but the last 5 years he has been a domestique working with Dennis Menchov, first at Rabobank and then coming to Geox-TMC when Menchov made the jump
Return
Jose Serpa, 32, Serramenti PVC Diquigiovanni-Androni Giocattoli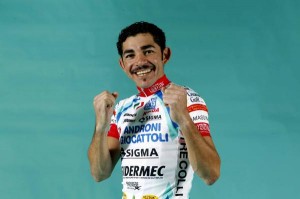 Full name: José Rodolfo Serpa Pérez
Born: Corozal, Sucre
DOB: April 17, 1979 (32 years old)
Team: Serramenti PVC Diquigiovanni-Androni Giocattoli
Professional Since: 2006
Jose Serpa has been riding for the same team since turning pro in 2006 (5 years as a pro). His team is a pro continental team, so they rely on invitations to protour races, like the Giro D'Italia. The team has a south American flavor, containing 4 Venezuelans, including Jose Rujano. The team was based out of Colombia mostly known as Selle-Italia until 2006, then Venezuela for 2 years and now in Italy since 2010.
Jose Serpa has been blazing the continental races, being in the podium like 8 or 9 times in 2011, including a streak of 6 2nd place finishes early in the year. He is always a contender in the Tour de San Luis (Argentina) coming in as 4th, 3rd and 2nd the last two years. He won the Tour de Langkawi (Malaysia) in 2009.
Because of his team, he tend only to ride the Giro d'Italia, finishing in 5 of them, the highest was 13th in 2009
Return
Leonardo Duque, 31, Cofidis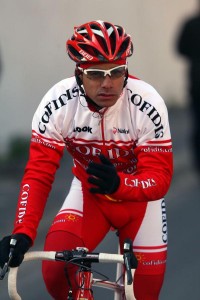 Full name: Leonardo Fabio Duque
Born: Cali, Valle del Cauca
DOB: April 10, 1980 (31 years old)
Professional since: 2004
Leonardo Duque is a special type of Colombian rider. He can hold his own while climbing, but not as good as the other pure Colombian climbers. He is a sprinter and has won most aggressive rider at the Tour de France already. In 2010 he won the French Cup (most points in France). This is mostly won by French nationals. The last two non-french winners? Thor Hushovd in 2004 and Philippe Gilbert in 2005
Return
Mauricio Soler, 28, Movistar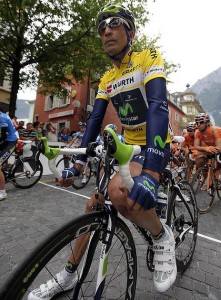 Full name: Juan Mauricio Soler Hernandez
Born: Ramiriqui, Boyaca
DOB: Jan 14, 1983
Team: Movistar
Professional Since: 2006
Mauricio Soler was (and may still be) the best Colombian cyclist right now. His issue has been injuries and bad luck (and a reputation for being an erratic rider). While he has shined SO much, he has also been hurt many times. In June 16th, 2011, he was leading the Tour of Switzerland and looked to be back to finally be a contender for the Tour de France. Then he got in a major accident. Coma, broken bones, cracked cranium, collapsed lung, etc… He was transferred from Switzerland to Spain after he came out of a 3 week long coma and is planning to be transferred to Colombia once the team of doctors feels he is safe enough to do so. On October 14th, he was finally discharged from the Hospital. His wife is with him in Spain, but neither has spent too much time with their newborn baby who is waiting for them back in Colombia. His best result was in 2007. 13th overall in the Tour de France, he won the best Climber (Polka-Dot) Jersey that year and came 2nd to Alberto Contador in the Youth jersey.
Return
Fabio Duarte, 25, Geox-TMC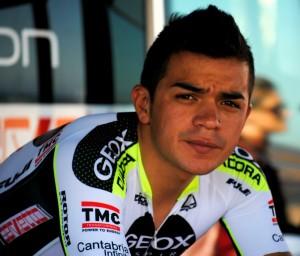 Full name: Fabio Andres Duarte Arevalo
Born: Facatativa, Colombia
DOB: June 11, 1986
Team:Geox-TMC
Professional since: 2007
Fabio Duarte is a very exciting racer. He is a great climber, but also likes to go on breakaways. He is very well rounded and has the potential to be one of the best GC riders from Colombia. He was the 2008 U23 World champion and is on the same team with Ardila, Menchov and (Now retired) Carlos Sastre. Love watching this guy race. He always seems to finish on top. Always tries to attack. Along with Uran, possible GC riders in the future.
Return
Rigoberto Urán. 24, Sky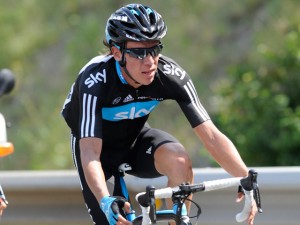 Full name: Rigoberto Urán Urán
Born: Urrao, Colombia
DOB: Jan 26, 1987 (24 years old)
Team: Sky ProCycling
Professional since: 2006 (He was 19!).
His Palmares include some amazing results in tough races (2nd at and 5th at Volta a Catalunya, 3rd at Giro di Lombardia, 7th and 9th Tour de Suisse, etc.)
This year he has been on the podium at Grand Prix Cycliste de Quebec, Giro Dell'Emilia as well as holding the white jersey at the Tour de France for 3 stages (and being the protected rider for Sky once Wiggins dropped out due to injury).
My favorite for the white jersey (TDF 2012)
Return
Cayetano Sarmiento, 24, Liquigas-Cannondale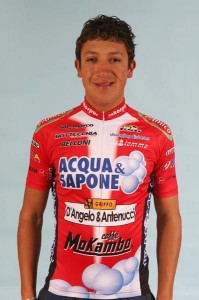 Full name: Jose Cayetano Sarmiento Tunarrossa
Born: Aracabuco, Boyaca
DOB: March 28, 1987
Team: Acqua & Sapone (For Liquigas-Cannondale 2012)
Professional since: 2007
Cayetano Sarmiento has been riding in Italy for a few years. He won the GiroBio (or baby Giro) in 2009 and has already participated in 2 Giro de Italia. Most likely being groomed as a domestique for Ivan Basso and Vincenzo Nibali, Cayetano has shown that he can do well in stage races.
Return
Sergio Luis Henao, 23, Sky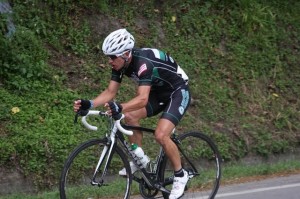 Full name: Sergio Luis Henao Montoya
Born: Rionegro, Antioquia
DOB: December 10, 1987 (23)
Team: Gobernacion Indeportes de Antioquia (For Sky ProCycling in 2012)
Professional since: 2007
Most people got to know Sergio Henao when he won the prologue at the Tour of Utah and eventually coming second to Levi Leipheimer overall at the same Tour.
Sergio won the overall in 2008 for the U23 Vuelta a Colombia and won the Vuelta a Colombia in 2010.
This guy is going to be great at Sky, helping out Uran in protecting Bradley Wiggings at the Tour de France while going for the wins in one day races. The Vuelta a Colombia is an extremely hard race, so he has also shown he can perform well in stage races.
Return
Winner Anacona,23,Lampre-ISD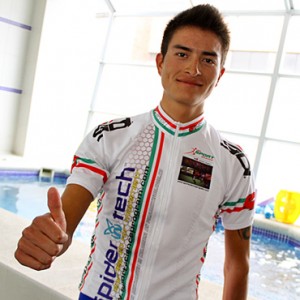 Full name: Winner Andrew Anacona Gomez
Born: Bogota
DOB: August 11, 1988
Team: Caparrini-Le Village-Vibert Italia (For Lampre-ISD 2012)
Professional since: 2008
Winner has been doing phenomenal in Italy this year being in the podium 15 times including 6 wins. While most of the Colombians were not allowed to go to the the Girobio in 2011 (Visa problems…right) and jeopardize the streak of winning the "Baby Giro" (Carlos Betancourt won in 2010 and Cayenato Sarmiento won in 2009), Winner went with his team and came in second (as Edward Beltran, another Colombian did in 2010). He will be with Lampre-ISD next year. Lampre has a lot of great riders, with Michele Scarponi and Alessandro Petacchi, so here is to a successful 2012 with Winner supporting them.
Return
Carlos Betancourt,22,Aqua & Sapone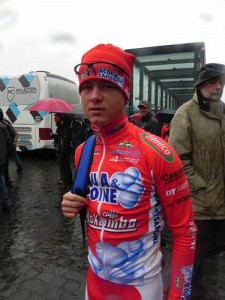 Fullname:Carlos Alberto Betancourt Gomez
Born: Bolivar, Antioquia
DOB: October 13, 1989 (22 years old)
Professional since: 2011
Team: Aqua & Sapone
Carlos Betancourt palmares include 2nd U23 UCI world championship 2009, won the GiroBio in 2010.
More recently, he won the Giro dell'Emilia on Oct 8, 2011, a tough Italian race considered a preview of the Tour of Lombardia, the classic that ends the cycling season. Uran came in 3rd on that race, btw, just losing 2nd at the line. He also participated on the Giro D'Italia in 2011 finishing 59th overall
Return
Nairo Quintana, 21, Movistar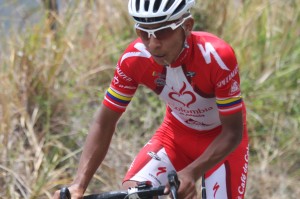 Full name: Nairo Alexander Quintana Rojas
Born: Combita, Boyaca
DOB: February 4th, 1990 (21 years old)
Team: Colombia Es Pasion (For Movistar in 2012)
Professional since: 2010
Nairo is another up and coming Colombian racer. He won the 2010 Tour de L'Avenir (Tour of the Future or better known as the future stars of the Tour de France). He has already shown aspirations by winning the mountain jersey in the Volta a Catalunya in 2011. He will be joining Movistar, hopefully with Soler next year.
Miguel Angel Rubiano,Serramenti PVC Diquigiovanni-Androni Giocattoli for 2012(Italy) 27,Winner of Tour de Hokkaido 2011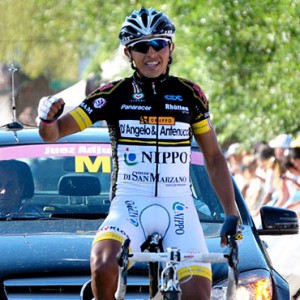 Rafael Infantino, EPM-Une (Colombia),27, Winner of Clasico RCN 2011, 6th at US Pro Tour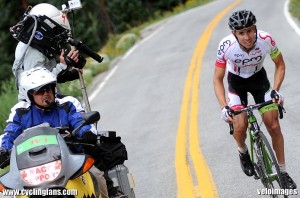 Jhoan Esteban Chavez, Coldeportes Nacional (Colombia) for 2012,21, Winner of Tour l'Avenir 2011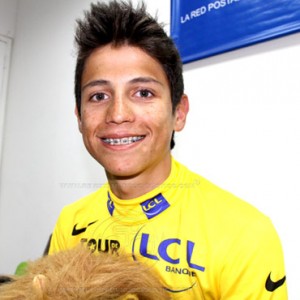 Edwin Avila, 21,Winner of 2011 UCI Track Points Championship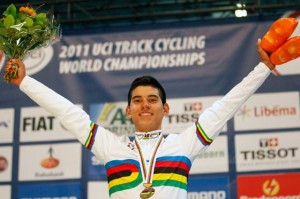 Giovanny Baez, EPM-Une (Colombia),30, Winner of Vuelta a Colombia 2009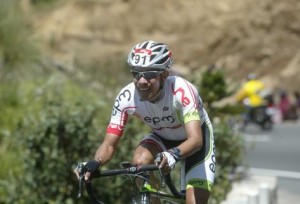 Janier Acevedo,Gobernacion Coldeportes de Antioquia,25, Winner of Vuelta a Costa Rica 2009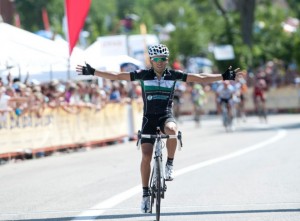 Another notable Colombia rider is even younger. just turn 20 years old.  2011 UCI World Champion in BMX.  2011 Rider of the year as well.  Her name is Mariana Pajon.   She is Colombia's best change at a medal in cycling in the 2012 Olympics.   Phenomenal rider